The Federal Government recently announced the Homebuilder scheme, offering $25k cash grant to all eligible Australians who wish to build new homes. While the chance to design and build your own house is attractive, the thought of building a home from scratch may seem like a daunting task to most people.

There are three main ways homeowners may choose to build their own property:
Purchasing a House and Land Package;
Demolishing an existing house and building a new property; and
Building on vacant land.
A land and build package will allow you to purchase a plot of land from a vendor who will also manage the future construction of your house. This package offers you the peace of mind as the vendor will manage and ensure that your home is built on time, with no additional cost.  Land and build packages have the advantage of additional stamp duty savings, while also allowing you the flexibility to choose your property design.
Alternatively, if you wish to design a house from scratch, you can engage a builder to assist you after you have purchased a plot of land.
---

We have compiled some Frequently Asked Questions for your consideration.
What happens if the builder fails to complete on the date of completion?
Builders are liable to pay liquidated damages for each day after the intended date of completion. However, Builders usually account for any possible delays in constructions and provide a buffer between their estimated completion date and the date of completion.
Can the builder use different materials without telling me?
No, the builder must give you a written notice asking for a variation of materials, your written and signed consent is needed. You may reject the variation but must not unreasonably withhold consent especially if the variation request is made in accordance with legislative building requirements.
What happens if I find out that the property is inhabitable after moving in?
There are various statutory warranties that are implied into the building contract, warranting that the property is fit for occupation at completion. You may seek an order to rectify any defects in your property for no cost if the defect occurs within the warranty period. For NSW, the warranty period is 6 years after the date of completion.
Do I have to pay the full price of the building contract upfront before construction commences?
No, you are not required to pay the full amount upfront. Builders are only permitted to request for progress payments, which are partial payments made at different stages of the construction process, reflecting the work completed up until the point of invoicing.
What if the building is different from the plans provided?
If the building on completion is different from the plans initially agreed on, you can lodge a complaint with the respective state tribunals. Each complaint will be assessed on its own merit and evidence provided. If successful, the court may order the builder to pay compensation or rectifications at no cost.
If you have any questions regarding a build contract or property, do not hesitate to contact us at any time at 02 9267 4988 or Vincent.hui@sunlaws.com
The NSW Government has announced that the threshold for the First Home Buyers Assistance Scheme will be increased from $650,000 to $800,000!  From the 1st of August, the increased threshold will come into effect for a limited time of a year only. The announcement comes hot on the heels of the Homebuilder Scheme introduced by the Federal Government, helping local Australians purchase homes and encouraging economic activity through the property sector.
The following table sets out the change in the FHBAS according to the announcement: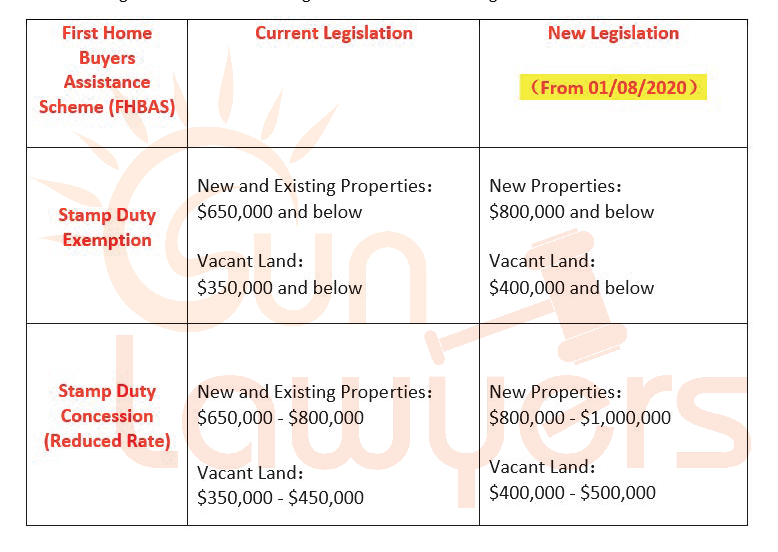 According to the current information, there is no change in the eligibility criteria for the first home buyer. However, only new properties are eligible for the increased threshold.
Besides the stamp duty concession, First Home Owners can also obtain the $10,000 from the First home owner grant, and an additional $25,000 if they are eligible for the Homebuilder Scheme, saving up to a total of $55,000!
The NSW Government estimates that 6000 first home buyers will benefit from the scheme, saving thousands of dollars in achieving the significant milestone of purchasing their first property. In addition, the property and building sector will receive much needed boost in demand, creating more opportunities and economic activity.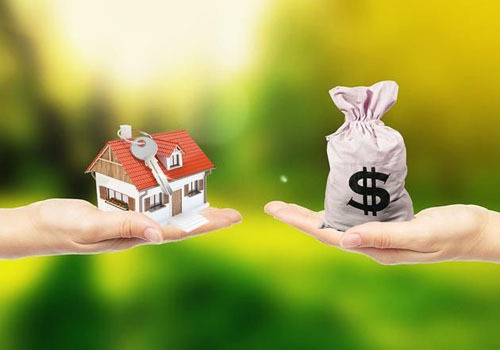 To invest or not to invest?
COVID-19 has deeply impacted the worldwide economy, bringing great uncertainty to the Australian property market. The Australian government has invested over 2 billion dollars to provide both JobKeeper and JobSeeker support for Australians and to stimulate the economy. To prevent losses due to inflation and fluctuations in the Australian dollar, properties are still prime investment options to protect and grow your finances.
With the dropping interest rates, mortgage interest rates have also decreased, meaning purchasers may borrow money at a lower cost than before. In addition, the National House Price Index have been dropping all over Australia, with home values reducing by 0.8% in Sydney. With all the support provided by the government, this may be the perfect chance for a first home buyer to purchase their first home with unprecedented discounts.
If you have any further queries regarding the purchase of properties, do not hesitate to contact us at 02 9267 4988 or Vincent.hui@sunlaws.com.
Related Articles:
If you are thinking about buying your first home, now is the time to strike while the iron is hot. The Morrison Government recently unveiled the $688 million HomeBuilders scheme which hands out grants of $25,000 for individuals to buy land and build property, or purchase off-the-plan apartments. This grant is available so long as the contract is signed between June and December 2020, and construction begins within 3 months of signing the contract.
The Homebuilder scheme is only available for brand new properties, which are also eligible as First Homes for First Home Buyers within Australia.  If you are interested to know how much you would save on buying your first home now, we have created a quick guide on the expected savings for the states of NSW, Queensland, Victoria, Tasmania and ACT.
Please note that the specific details of the schemes may be subject to change or additional criterias.
NSW
In addition to the HomeBuilders grants of $25,000, first home buyers in NSW are eligible for the New Home Owners Grant, as well as the First Home Buyers Assistance Scheme (FHBA).
After signing the contract of sale, the FHBA will exempt your property from stamp duty if the property is under $650k. For properties between $650K to $800K, you are still entitled to a concessional exemption of a portion of the stamp duty payable. This scheme helps you to save up to $25 000 for stamp duty payable on a property which cost $650K.
You will also be eligible for the New Home Owners grant of $10,000 if the purchase price does not exceed $600K.
Potential Savings in NSW : $25K + $25K + $10K = Around $55K.
Queensland
First home buyers in Queensland can obtain the First Home Buyers Grant of $15K when buying a new house, unit or townhouse.
Purchasers in Queensland will not have to pay stamp duties when purchasing first homes that cost less than $500k, enjoying a discount on stamp duties payable on properties up to a total of $8,750.
The Queensland State Government is also offering an additional grant of $5,000 for First Home Buyers building a new house, unit or townhouse in Regional Queensland valued less than $750K. This grant is only available between June 2020 and December 2020.
Potential Savings in Queensland: $25K + $15K + $8K + $5K = Around $53k.
 Victoria
In addition to the HomeBuilders grants of $25K, first home buyers in Victoria are able to access a $10K First Homes Grant. The Victorian Government is also offering an additional $20K grant for first home buyers in regional areas if they enter into a contract to buy a new property between July 2017 and June 2021.
Stamp duty is exempt for first purchases of property valued under $600K, saving up to $31K in stamp duties. For properties that are valued between $600K and $750K, purchasers are entitled to stamp duty concessions depending on the cost of the property.
Potential Savings in Victoria: $25K + $10k + $31K = Around $65k
Tasmania
First home buyers in Tasmania will receive a one-off payment of $20K. This grant is available to all homes and land purchases, which includes properties purchased off-the-plan. This offer will only be available for the period between 1 July 2016 to 30 June 2022. This grant will revert back to $10K after this period.
Potential Savings in Tasmania:  $25K + $20K +  = Around $40k
ACT
In ACT, the first home owners grant of $7K will not longer be available from 30 June 2019 onward. Instead, this is replaced with stamp duty exemptions for all first home buyers in ACT. Stamp duty for properties worth $600K is around $15K. This concession is limited to first home owners who have a household income of lower than $160K.
Potential Savings in ACT: $25K + $15K Around $42k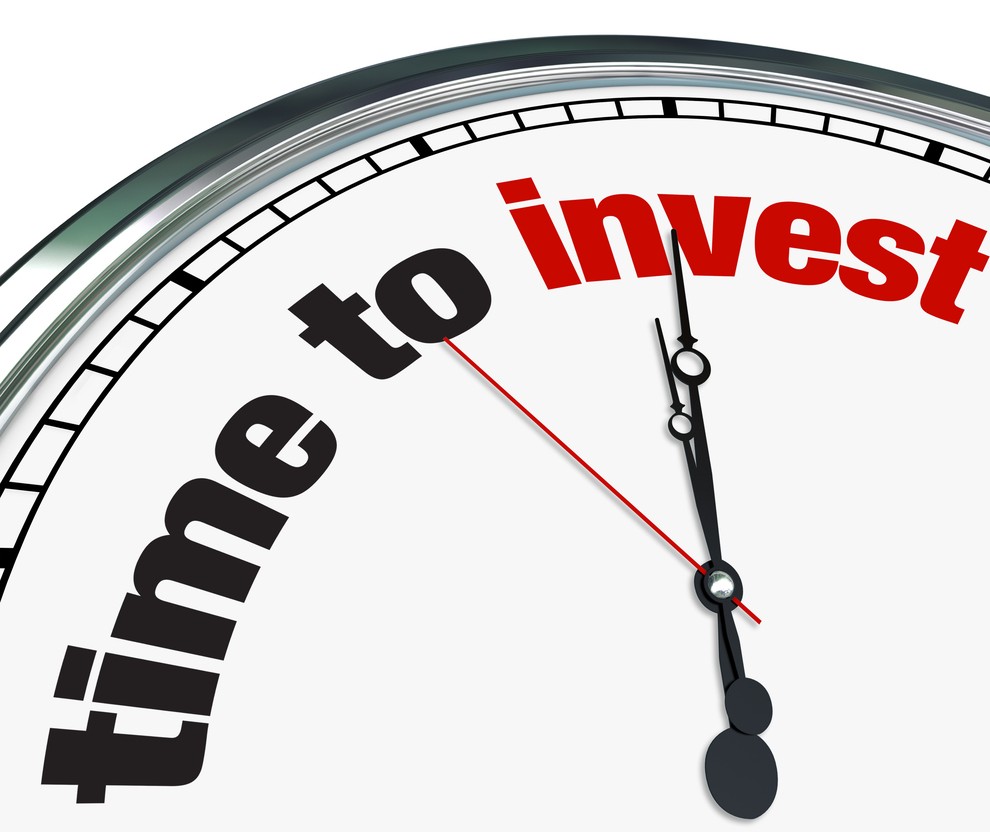 Is now a good time to invest in a new property considering the Covid-19 pandemic recession?
The Australian economy has taken a hit due to the Covid-19 pandemic and the Morrison government has introduced the Homebuilder Scheme to boost the property and construction sector.  While it may be difficult to spend such a huge amount of money in such an environment, these grants are of limited time so you will need to act fast to obtain all the relevant grants.
If you have any questions regarding the Homebuilder scheme, First Home Grants, or any other property-related queries, do not hesitate to contact us at vincent.hui@sunlaws.com or 02 9267 4988.
With a view of the potential downturn in the Economy in the second half of 2020, the Australian government pushed out the 'HomeBuilder' Scheme to boost the economy. The scheme gives eligible Australians a grant of $25k to build a home as their principal place of residence, and for renovation works within the price range of 150k to 750k.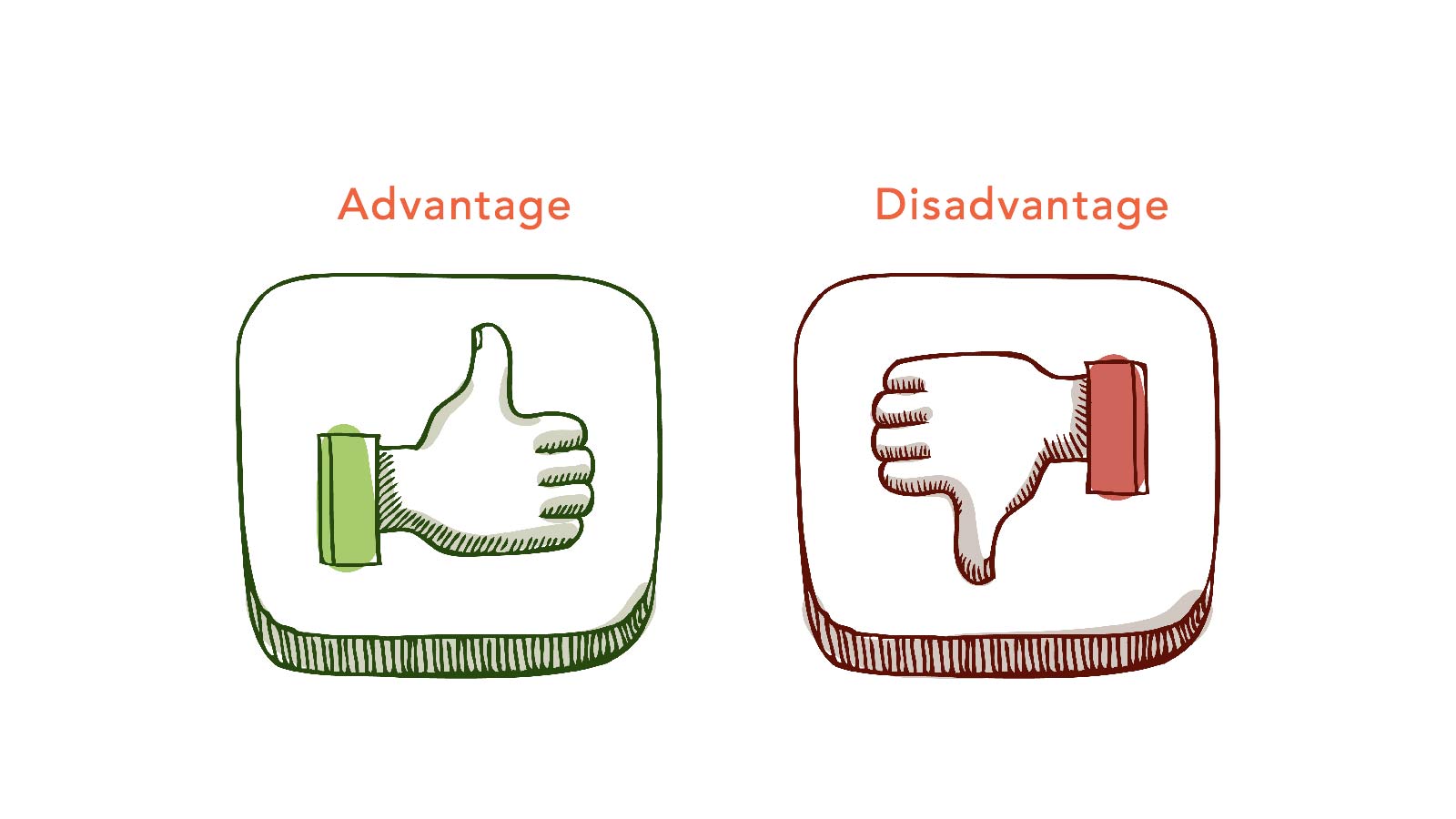 Benefits
The 'HomeBuilder' scheme would provide a boost to construction and renovation companies by increasing demand for their services. Having an increase in building and construction jobs creates jobs with low barriers of entry accessible to most people.
By offering the grant, Australians previously on the fence might be incentivized to purchase or build a new home, increasing the supply of properties in a market. Buying land to build a house has always been a popular method of owning a home due to many advantages such as stamp duty benefits.
According to the new updates on the Homebuilder Scheme by the Treasure, Off-the-plan apartments are eligible if construction begins within 3 months of the contract date. Off-the-plan apartments will be more affordable, especially to younger adults or couples looking to buy their first home.
Disadvantages
The income caps were $125k per annum for an individual and $200k per annum for a couple based on 2018-2019 tax returns. According to the Australian Bureau of Statistics, the average weekly wage in November 2019 is $1,658.70, or around 79k a year. Using this statistic, does the scheme really help the average Australian? For renovations to qualify, it requires an investment of between 150k and 750k, to obtain a 25k grant, a hefty investment of 125k at minimum. We are in the middle of an economic downturn, many Australians have lost their jobs and do not have the spare cash to spend 125k on renovations, much less a few hundred thousand on a new property.
Conclusion
The Homebuilder scheme has potential to create jobs in the economy by increasing demand for construction and renovation works. While it's stringent criteria might cut out the people who are able to afford it, we believe that it will nevertheless bring a needed boost to the economy.
Should you have any property enquiries, do not hesitate to contact us at vincent.hui@sunlaws,com or 02 9267 4988.
After the Covid-19 pandemic hit, Australia declared the closing of their borders to contain the spread of the pandemic, leaving thousands of International students stranded and unable to return for their studies. Many of these students have agreed upon leases for their accommodation during their education term but were unable to return and carry out the lease.  International students often suffer the disadvantages of language difficulties and are unfamiliar with the local laws to enforce their rights and obligations under the law.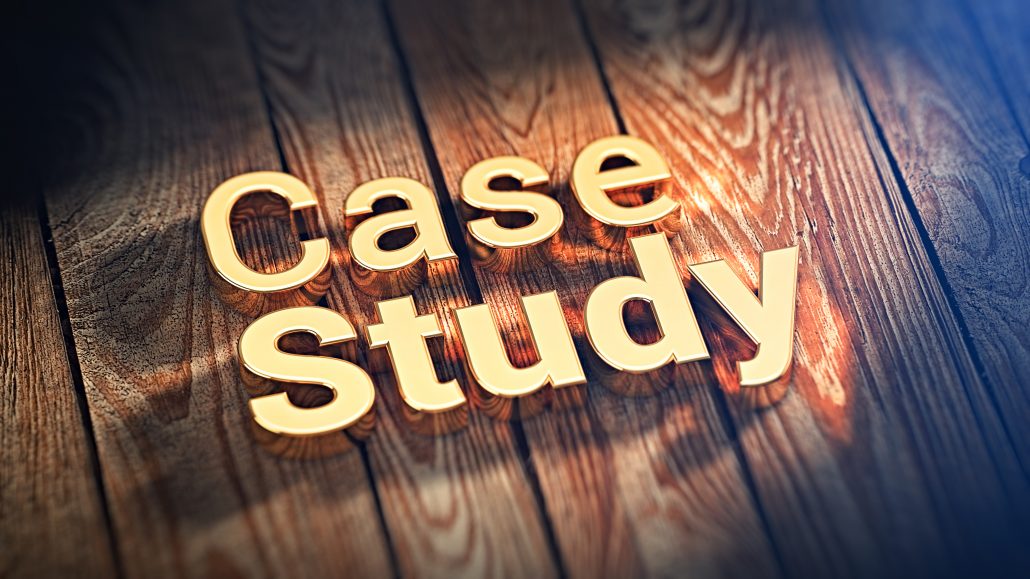 A client, D, who is an international student in Tasmania who faced a problem regarding rental bonds. She had a verbal agreement with a sub-lessor to sublease a room prior to COVID-19, and prepaid her bond with the intention to sign the sub-lease once she was back in the country after her holidays. Once Australia declared the lockdown, she was unable to return to carry out the lease and had to cancel it.  The Sub-lessor decided to keep the rental bond paid, citing damages for loss of rent and advertising costs. As the bond was not paid into the MyBonds System, she was unable to utilise official channels to reclaim the bond and was advised to negotiate with the lessor instead.
Rental bonds are usually paid to cover reasonable damages and cleaning costs caused by a tenant. Using this principle, we wrote a letter of demand to the sub-lessor to refund the rental bond, as the losses and damages suffered were not due to our client, but rather the unfortunate situation of COVID-19.
The Australian Government often stressed both landlords and tenants have suffered losses due to the pandemic, and there is no reason not to negotiate and compromise. Through our negotiations, we were able to help our client reclaim the rental bond, while offering the sub-lessor one week's rent to mitigate their losses, leading to a mutually beneficial situation. In this situation, the client had the bravery to speak out and sought our help to correct her injustice, and was rewarded with a positive result.
Regardless of how small your matter might be, our lawyers are always ready and willing to protect and uphold your rights. Should you have any queries, do not hesitate to contact us at 02 9267 4988, or info@sunlaws.com and Vincent.hui@sunlaws.com.
As part of Australia's response to COVID-19, many businesses and activities had to be shut down, causing widespread economic impacts. To help support the Australian rental market, many states have introduced Land Tax measures to assist both landlords and tenants.
The following guide to Land Tax relief in Australia will help landlords understand their entitlements at a glance as of 4 May 2020.
Should you require any help in any residential or commercial leases, or require more information, do not hesitate to contact us at info@sunlaws.com and Vincent.hui@sunlaws.com, or (02)9267 4988.